If you are definitely not a 6am-spin-class-at-the-gym-grab-a-green-smoothie kinda person, then it can seem like becoming one is an impossible task only made for those who seem to live in active wear. The thought of joining a gym might seem like something you'd like to do, but actually doing it and going everyday? Yawn.
Yes, exercise and getting fit are a little daunting when you're just starting out. But here's the big secret: you don't have to do much to start, and once you do it becomes so ingrained in your routine you won't even notice it. Changing your mentality from "this is exercise" to "this is something else I do during the day" can help you to blur the lines between what a "fit" person does and what you do.
Here are some super simple activities you can do that will incorporate fitness and exercise into your daily routine without making you miserable.
Take the stairs
Hong Kong is a veritable feast of stairs and tall buildings. Most of us do not live on the ground floor, and our offices are often perched somewhere up high in a teetering tower. The easiest way to begin exercising without even noticing is to opt to take the stairs at least once a day. Just by climbing a few flights daily, you're already making the move towards fitness!
If you're worried about arriving at work and being all sweaty and gross from the stairs, aim to opt for the stairs when you're at home or when you know you can clean up soon. Get those glutes burning!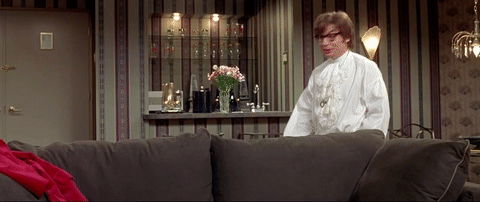 Fake it til you make it, baby!
Walk, walk, walk
Hong Kong traffic is atrocious, for a journey that off-peak times seems to take ten minutes we find ourselves sitting bumper to bumper in traffic (or face to face with a stranger on the MTR). It's definitely time for you to begin walking places to not only avoid rush hour, but to also get your exercise in without realising. Stock up your phone with podcasts, audiobooks, groovy tunes, or even get a friend on the phone for a good gossip session, and aim to change one aspect of your daily travel from public transport to walking. If you need to travel cross harbour or long distance, then instead use your lunch hour at work or the hour before dinner to do the same stroll.
By the same token, a great walking workout is hiking. Although you might have horrible images of hikers with giant backpacks and hiking poles, all you need for your zoom up the peak is some water and good music. Hiking is a step up from walking to work, but the pay off is so much more for those views and that butt you'll get from it. (psst, why not do it at night for extra coolness? 
Soon your mind (and body) will feel lighter before you know it.
Exercise in your down time
This one is simple: find time in the day to do one small set of exercises. When you wake up and are waiting for the kettle to boil, do ten crunches. Every time you head to the bathrooms at work, do ten squats. Watching Netflix at home? When the shows credits start rolling, don't hit the next episode button, instead use the time to do a plank.
Some super simple workout routines take less half an hour, but make a huge difference. Some super simple routines that you can do at home can be found here.
Whatever your small exercise is, make an effort to do it every day or wherever you can. If you associate your exercise with something else (for example, cooking dinner or getting ready to have a shower) then the two begin to go hand in hand and you won't feel satisfied without doing both.
 
Find a class that doesn't feel like exercise
When you're out with your friends dancing madly in some dark nightclub, take a moment to notice how out of breath and sweaty you are. Did you know that mad dancing is exercise? You probably didn't notice because we often associate exercise with gym classes or angry weight lifting. The best way to start off your fitness journey is to find something that is both active and fun. For those who love a good dance, Zumba classes are fantastic because they are fun and calorie burning at the same time. If you have a lot of aggression, a boxing class is your go-to. If you're a problem solver, rock-climbing can burn calories by the minute (hello, toned and slender arms!) and the studios in Hong Kong are super cool. All you need is to grab a pal, a towel, and get ready to be wowed by your non-exercise exercise.
Looking for some out-of-the-box exercise to do this year? We bet you haven't tried the amazing and relaxing bamboo aerial yoga yet! 
Considering trying Aqua Biking a whirl? We sent one of the BloomMe team to try out a session, and it is not what you think it is.
Download BloomMe and use code "Talk88" to get $88 off your 1st booking, FREE!
****👓 Read More 👓****
If you are definitely not a 6am-spin-class-at-the-gym-grab-a-green-smoothie kinda person, then it can seem like becoming one is an impossible task only made for those who seem to live in active wear. The thought of joining a gym might seem like something you'd like to do, but actually doing it and going everyday? Yawn. Yes, exercise…