The Hong Kong lifestyle could probably be summarised into one word: stress. It's crowded, it's busy, it's long hours of work (and play). Here at BloomMe we genuinely value any time or method we can find to centre our soul and find our happy place. Meditation is a wonderfully simple and highly effective way to find that moment of inner-peace in a world of chaos.
The ability to relax your mind and body is a wonderful skill to have, and if you've been enviously listening to others describe how great they feel after meditating but not sure how to begin your journey, then you need to start with little baby steps in to mediation:
Sit nice and straight, and close your eyes
The most common position for meditation is sitting down, either on your bottom cross legged or in a chair. There's some debate surrounding lying down for meditation, but at the end of the day whatever makes you feel good. If you're opting for a cross-legged sit, be sure to put a pillow underneath you for maximum comfort. Above all, make sure you are sitting nice and tall. A great visualisation technique is to pretend there is a string extending from your head upwards drawing you up.
Now, gently close your eyes.
Relax your body
We often carry tension in our bodies without even realising. Use this moment to check to see where you are holding your tension. Are you clenching your jaw a little? Maybe your shoulders are being drawn up to your ears a little? Wherever this tension is, it's time to give yourself permission to let it go (let it go, let it go.)…
Breathe
Hopefully you were already breathing when you began meditation, otherwise you'd be dead, but now it's time to pay attention to the way you're breathing. Your breath should be deep but silent (no huffing and puffing) and not forced.
A good way to begin paying attention to your breath is to notice how it feels travelling in to your body. Feel the breath over your lips and nose, travelling down your throat, and into your chest and belly. Find your mantra
Although it sounds super complicated,  mantra is simply a word or a phrase that you will repeat to yourself during your mediation. During the day, our brain is constantly chitter chattering away at us about this and that ("do I want a coffee? What time is that meeting? Will I be home in time to feed the cat before he bites me? Why does my cat bite me? Does he think I'm the food?" etc. In order to slow down those thoughts and give our tired minds a bit of a break, a mantra can help to guide your brain back to one thought at a time. A simple mantra is to chant to yourself about your breathing "in, out, in, out".
Calm your brain
As you begin to relax into place repeating your mantra, you may find that thoughts and musings begin to flood your brain. The most important part of meditation is not to fight these thoughts entering your mind, but instead just acknowledge their presence and gently wave them on. If you begin to force your mind to be quiet, the opposite will happen and you'll be stuck in a loop of trying not to think of something. Some days when you meditate your brain will cooperate and you'll have little thoughts popping in to say hello, other days you'll find it a real struggle to find peace and quiet in your mind. Neither are good or bad on your meditation journey, it just is what it is.
Start relaxing
There's no real limit to how long you should spend meditating, some days you'll be able to meditate longer than other, but when you first start out 5-10 minutes is more than enough. Also remember that a short session every morning is more beneficial than a long 2 hour meditation once a fortnight. Consistency and quality is key.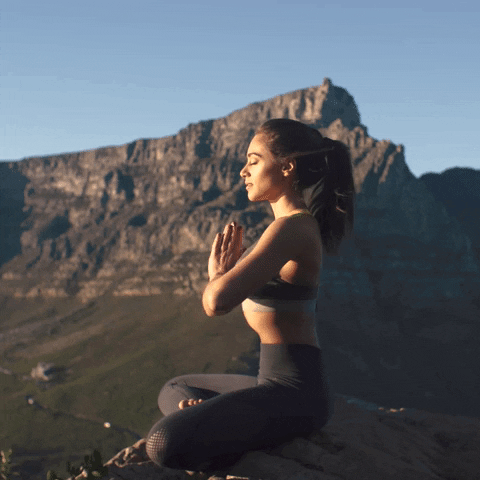 Finish off your session properly
After all that hard work relaxing, the worst thing you can do to your mind is to just abruptly jump up and start your day. When you're finished with your meditation, start by gently bringing awareness back to your fingers and toes. Give them a wiggle. Then your hands and feet, and so on. Gently open your eyes and have a big stretch.
Don't forget to really enjoy the feeling of relaxation too!
Get inspired by Hong Kong's Wellness Warriors, women who believe that happiness first starts with your soul.
Wanting to explore more places to find mindfulness? Why not head to one of Hong Kong's premiere mindful centres and find your inner peace?
Download BloomMe and use code "Talk88" to get $88 off your 1st booking, FREE!
****👓 Read More 👓****
You May Also Be Interested In:
The Hong Kong lifestyle could probably be summarised into one word: stress. It's crowded, it's busy, it's long hours of work (and play). Here at BloomMe we genuinely value any time or method we can find to centre our soul and find our happy place. Meditation is a wonderfully simple and highly effective way to…