Onychophagy, or nail biting as it is more commonly called, is one of the hardest habits to break, but you won't see national campaigns warning of the dangers or support groups for NBA (nail biters anonymous). If you're addicted to chomping and gnawing on your own hand and want to stop, BloomMe is here to guide you through the steps to ultimate salvation.
Actually want to stop
Not just "I promise I won't bite my nails anymore mum" but actually wanting to quit biting. Addiction can only be kicked once you accept that you are an addict and that you want to change. Nail biting can be particularly difficult to stop because, unlike smoking or watching Geordie Shore, you can pretty much indulge your addiction anywhere and at anytime.
Actually committing to breaking the habit may seem simple, but it is one of the hardest and most crucial steps you can take towards freedom. 
Find something else for stress relief
Nail biting is a physical expression of anxiety, and is often linked to stress or boredom or a lethal combination of both. The best way to fulfil the need to de-stress is to invest in some relaxing gadgets. It's also a sign of being an orally fixated person (mind out of the gutter people!)- this means you're probably the type to suck on pens, bite your nails, talk a lot- sound familiar? 
Carry a nail file with you at all times! That way when you find a cracked or a nail that's starting to annoy you, you can simply file it down and get rid of the irritation whilst making your nails look nicer. Once you start this and appreciate the difference it's making to your nails appearance and health you're more likely to continue this practice.
At the end of the day, find what gadget helps to distract you from biting and stick with it. The end goal is to keep your hands busy and your mind focussed on becoming bite-free.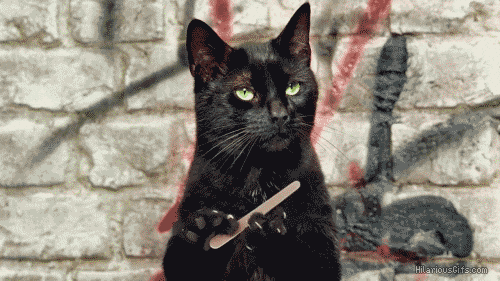 A paint-on solution
A little more invasive but fantastic for combatting reflex biting, there are inexpensive lacquers available from most cosmetic stores that are painted onto the nail like regular polish but taste like absolute horror. The end goal is that whenever you find your nail mindlessly moving towards your mouth, the moment the lacquer hits your tongue you will be hit with a taste that even the devil would avoid in hell.
Be careful with the course of action if you intend on having tasty finger food or a romantic night of poking strawberries into your significant other's mouth (unless your significant other is the one biting your nails, in which case deter them with this ungodly taste).
Fight the damage
One reason people continue to tear away their own skin and nails is existing nail damage. How tempting is it to begin tugging at a hang-nail, only to find you pulled too much off and now your finger is throbbing? For nail biters, this is a daily occurrence.
The best way to combat nail damage is to look after yourself and give your nails the love they deserve. This means eating nourishing foods, drinking plenty of water, and maybe even taking some vitamins for hair and nails. If your sore hands are becoming a problem, consider visiting your local doctor to make sure it's nothing serious.
TLC- even in the smallest ways
A fantastic way to stop biting your nails is to treat your hands to some TLC. Gel Manicures, are the best way for this. Like we said before it's about appreciating your nails and the way they look but instead of regular polish, gel either soft or hard is stronger so it protects your nails from your gnashers. Over time you'll stop biting and just have wonderful beautiful nails. 
If you're looking for a manicure in Central and don't quite know where to look, then don't worry, we can hook you up with our faves here!
Download BloomMe and use code "Talk88" to get $88 off your 1st booking, FREE!
****👓 Read More 👓****
Onychophagy, or nail biting as it is more commonly called, is one of the hardest habits to break, but you won't see national campaigns warning of the dangers or support groups for NBA (nail biters anonymous). If you're addicted to chomping and gnawing on your own hand and want to stop, BloomMe is here to…