We all enjoy having good hair, it's a great thing to have and it's super fun to whip it around on the dance floor. But sometimes all the prepping, cleaning, product lathering, and well-wishing in the world seems to make no difference. If your hair seems to be lacking that little something somethin, it may be because without realising it, you're doing more harm than good.
Washing it too frequently
It may seem a bit counter intuitive, but washing your hair too much is super damaging to your mane. When your hair seems a little lifeless or distressed, it may be your natural instinct to dive into the shower and start scrubbing, but this is actually making it worse. When your hair becomes wet, it makes the hair swell and become more elastic, which makes it easier to break. In addition to snappy hair, shampoos can sometimes remove natural oils leaving your head looking dull.
Solution
Wash less. Try to avoid washing your hair for a few days at a time in order to give it time to recover and get back it's natural shine. A good alternative for those who can't stand a bad hair day is to invest in some dry shampoo (for more tips on combating a bad hair day, check out our cheeky guide here. If you absolutely have to wash daily, try and use a mild shampoo.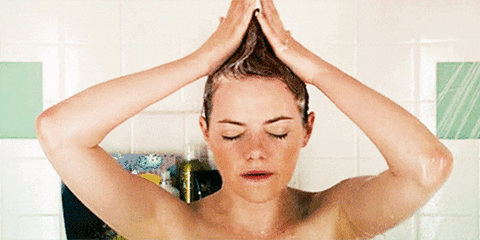 Brushing Wet Hair
As we have already said, brushing wet hair is a definite no-no. Brushes with bristles and narrow-set combs will grab your hair, stretch it, and most likely snap it like a Kit-Kat.
Solution
Be gentle with your hair after you get out of the shower. Would you like it if someone made you do something hectic like aerobics straight after you got out of the bath? Probably not. Use your fingers or a large, wide toothed comb to de-tangle wet hair and save yourself from the snap.
Towel Drying Wet Hair
It seems as though your hair is most vulnerable when it's wet (like marzipan). Delicate hair should have delicate care, and bending over and viciously rubbing your head with a towel is not our idea of delicateness. One reason your hair may be looking fluffy or fuzzy is that your aggressive towel drying is causing it to freak out (like a startled fuzzy cat).
Solution
The best way to dry your hair is to blot it with the towel. A really big, fluffy towel is best at picking up all the moisture from your hair, consider investing in a high quality one like the towels Naomi Campbell advertises in Wellcome.
WARNING: Towels also cause feline attraction
Blow-drying
Blowdrying is a convenience awarded to us by technological advancements in hair care, and you might not be surprised to discover that blowdrying causes excessive dryness in your hurr. Known as "flash drying", moisture is not only removed from the surface but also from deep inside the hair itself. The effect is that your hair becomes brittle, rigid, and annoying to try and style. Combined with brushing and other hot styling tools (curlers, straighteners, etc.), your hair gets quite a beating.
Solution
The ideal solution? Don't blow dry your hair and let it dry naturally. Air drying your hair will protect it from loss of moisture and keep it looking healthy for longer. Of course this is not ideal for everyone. Some of us need a firm approach when it comes to controlling our hair, and others may just be running late for something and don't want to arrive looking like we've just leapt out of the ocean. If you absolutely have to dry your hair with a blowdryer, invest in some thermal protect spray. Similar to a sunscreen for your hair, this spray helps your hair to withstand the heat from our various styling tools. Plus it smells delicious too!
Tried everything and still battling lifeless locks? Maybe it's time you investigated the world of hair oil and all it's magical properties. 
Download BloomMe and use code "Talk88" to get $88 off your 1st booking, FREE!
****👓 Read More 👓****
We all enjoy having good hair, it's a great thing to have and it's super fun to whip it around on the dance floor. But sometimes all the prepping, cleaning, product lathering, and well-wishing in the world seems to make no difference. If your hair seems to be lacking that little something somethin, it may…